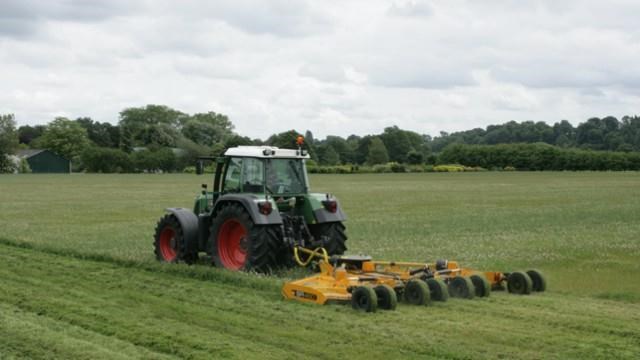 | | |
| --- | --- |
| Title | MCCONNEL SR460 |
| Make | MCCONNEL |
| Price | POA |
| Listing Type | New |
| Stock Number | S70 |
| RefCode | TA542764 |
4.6m working width
Heavy duty gearbox
3 rotor configuration
Slim clutch protection
1000rpm wide angle PTO
Hardened updraft swinging blades
Walking axles
Replaceable full length skids
115° wing movement
Anti-scalp discs
Markets
Agricultural
Groundcare
Governmental
Contractors
Tractor Requirements
80hp minimum tractor horse power
Features
Multi-blade Option - Improves mulching thanks to the six blade configuration; 3 up-draft blades first cut and then push the crop in to the path of a further 3 shredder blades for complete mulching.
Anti-scalp Discs - Fitted as standard the anti-scalp protection, protects the blade pivot bolts and blade carriers on uneven ground. They also help prevent the mower from scalping the grass, giving a better quality finish.
Deck Wing Protection - The steel rings protect the underside of the cutting deck from debris when cutting in the roughest conditions.
Walkng Axles - The McConnel SR460 is comes with walking axles as standard. Each pair of wheels have been designed to pivot around the axles so even when the surface is uneven the mower still travels smoothly.
Hitch Option - All McConnel flex-wing mowers are available with either high hitch or low hitch.
Heavy Duty Chain Guard - The full width heavy duty chain guard encloses the back and the front of the mower to contain flying debris without restricting the inflow of material to be cut.
Cutting width 4.6m
HP requirement 80hp
Weight 2220kg
Cutting height 25mm - 400mm
Cutting capacity 50mm
Overall width 4.8m
Overall length 4.85m
Transport width 2.8m
Transport height 1.8m
PTO speed 1000
Gearbox rating 170hp
Rotor gearbox rating 111hp
Protection Slip clutch
Number of blades 9
Blade tip speed 5340m per sec.
Rotor speed 5340m per sec.
Blade overlap 110mm
Hydraulic wing movement 90° up / 25° down
Number of wheels 8
Replaceable skids Standard